October 19, 2022
Help Your Students, Staff, and Families Address the Unseen with HELPme
Students are struggling. Acts of school violence and suicide rates continue to rise. Millions of students take that walk, Monday through Friday, through the front doors of their schools. Backpacks are filled with physical items such as books, pencils, notebooks, pens, and perhaps lunch or a snack. What we can't see are the things weighing them down emotionally, with hurt, trauma, loss, and anger.
Those things we can't see may have the most impact.
Students come to school with the capacity to learn obscured by unseen traumas. Those traumas, past and present, are also taking up space in their backpacks. The traumas aren't predictable, scripted, or consistent between children. Some carry the burden of insufficient basic needs. Others carry the weight of negligence or abuse. Others carry the weight that comes with the loss of a family member. Others just need to be handled with care on a given day. To even the most experienced educator, the backpack will not reveal a student's abuse, addiction, or suicidal ideation. It is hard to believe that anything that can't be seen can have such an impact on a child. But it does.
Far too often with dire results.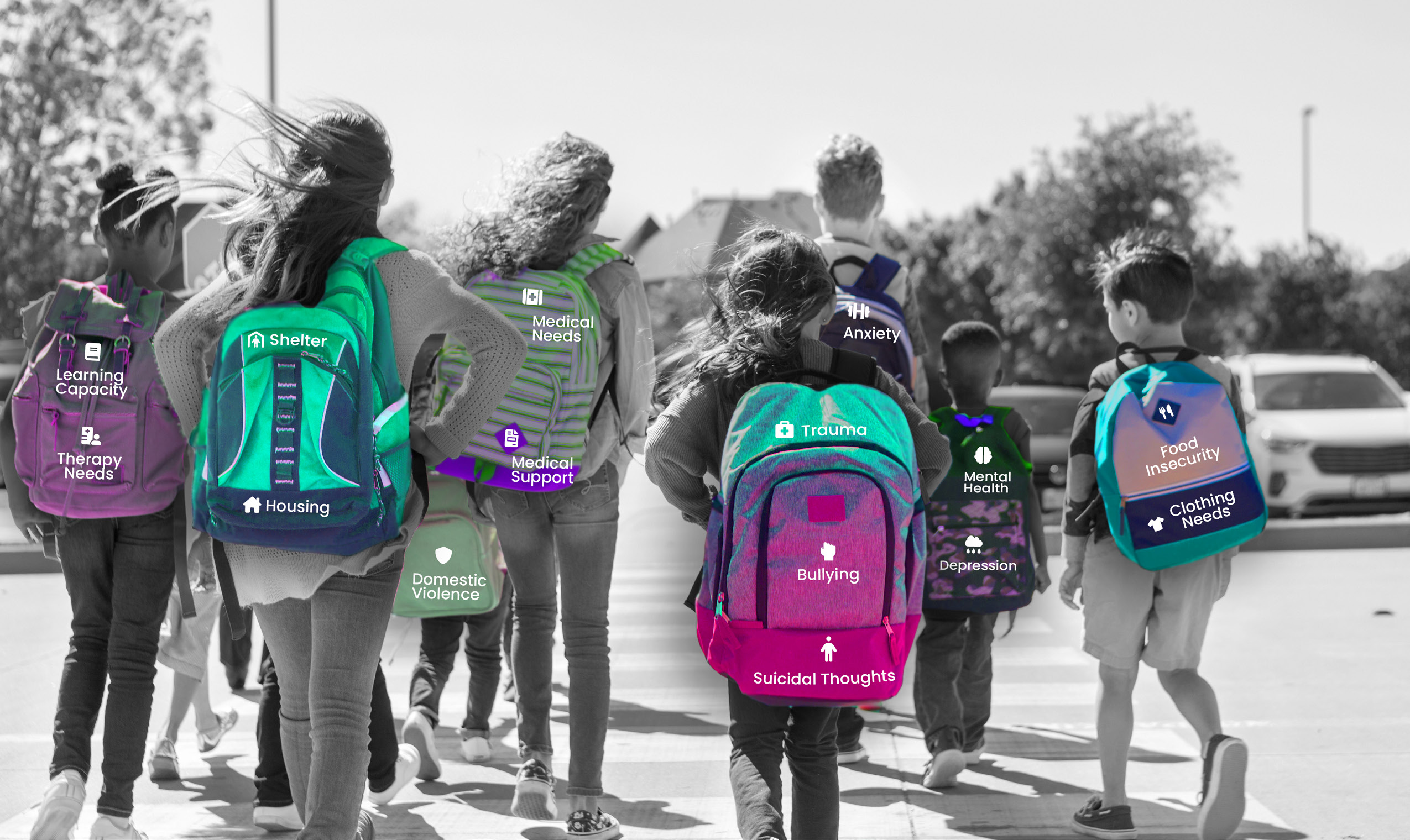 The trauma-filled backpack's unintended consequences are many. Trauma impacts the high-achieving student and the disengaged learner. It creates barriers to learning. Neither the child aiming to comply, nor the reluctant learner is immune from the insidious harm that gets transported to and from school in their backpacks. Children of every age, race, ethnicity, religion, and gender carry unseen trauma in their backpacks. The weight changes minute by minute, day by day, and month by month. The weight can double with bullying, intimidation, and harassment that may creep into a child's life along their journey.
Often, the trauma-filled backpack is unpacked far too late.
For middle and high school-aged students (ages 12-18), suicide is the 2nd leading cause of death.[i]
For students ages 10-14, the number of suicides has almost doubled since 2006.
Suicide for this group is also the second leading cause of death.[ii]
In 2020, the Urban Institute found that one in four families with school-aged children reported experiencing food insecurity.[iii]
In the United States, children experience child abuse or neglect at a rate of 8.9 per 1000 children.[iv]
In grades 4-8, 90% of students reported being bullied. The percentages were 28% and 20% in middle school and high school, respectively. Over 160,000 children a year refuse to attend school. 70.6% of students reported witnessing bullying in their schools. Revenge bullying results in 10% of school shootings in the U.S.[v]
When the unseen contents of the backpack are revealed, significant damage is often done. The contents carry with them alarming statistics. It is no wonder that so many students feel burdened and detached from the true business of school: learning and developing social connections.
So, what can we do?
Now more than ever, students, staff, and families need a comprehensive safety and wellness program that includes a pathway to anonymously connect with assigned helpers (i.e., Family Engagement Coordinators, School Counselors, Social Workers, and School Nurses) and accessible resources.
HELPme is designed to meet the unseen needs of the school community by providing access and linkages to resources for basic needs, mental health, and family resilience while ensuring the privacy and dignity all people deserve.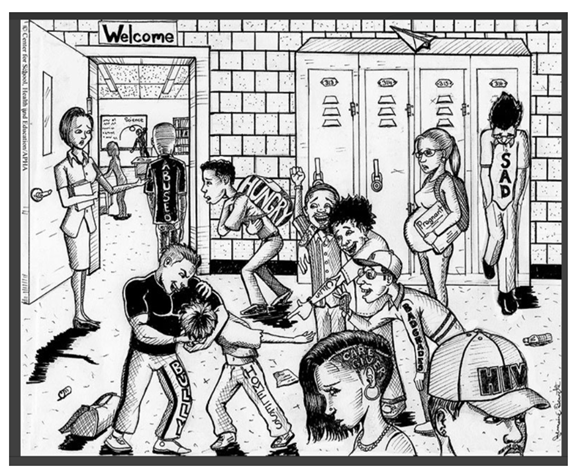 HELPme provides a safe, anonymous platform to come forward to voice a concern or ask for help for yourself, your child, or a friend without the stress of having to self-identify. Providing connections and linkages to resources, support, and help for those challenges can go a long way toward removing barriers to learning and building a thriving school community.
HELPme transforms students, staff, and the community from bystanders to upstanders, from spectators to participants, and from victims to empowered members of their school community. HELPme meets the students, staff, and families where they live in the tech world to provide them with a transformative resource using the world's most powerful technology, their personal devices. When used, HELPme has the power to address the unseen and remove barriers to learning.
Now, more than ever, is the right time to make your school a safe and healing place for learning and achieving.
Download the free HELPme Guide below for more information.
[i] 2020 CDC WISQARS
[ii] 2020 CDC WISQARS
[iii] Poonam, G, Gonzalez, D, & Waxman, E., 2020
[iv] Sheppard, S., 2021
[v] Education Corner, 2020