April 12, 2018
How To Launch STOPit Reporting In Your School
Get Started with Anonymous Reporting in 3 Simple Steps
When school administrators are considering bringing in a new program to help report and monitor incidents of bullying, of course one of their biggest criteria is finding the most effective way to keep kids safe. Second and third to school safety are state compliance and time. How quickly, officials ask, can I get a reporting program off the ground?
The answer is, if you're using STOPit, platform set up takes 30 minutes and rollout is as simple as booking a pre-programmed assembly or in-class activity.
STOPit is a simple, fast and secure platform for reporting and managing any type of harmful or inappropriate behavior and can be launched district-wide in just a few steps. With a simple mobile app, STOPit instantly and anonymously connects students with those individuals who can resolve school safety issues.
STOPit also equips administrators with a smart and easy backend system, which supports anonymous two-way communication and several other tools to save time and conduct an effective, efficient investigation.
Here's how to roll out STOPit in your school – Your Launch Kit has everything you need
Prior to launch, STOPit will deliver your Launch Kit containing all of the tools and resources you will need to successfully implement the platform.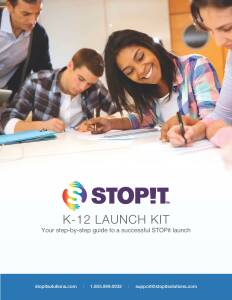 Each Launch Kit contains:
Posters
Videos for students, staff and parents
Student Assembly agenda
Staff Meeting agenda
Press Release template
Launching the app for your students
Getting your students started on their reporting app can be done in just three simple steps.
1. Set up your STOPit access code
Your code will be specific to your school, allowing only your students to securely log in and access reporting and messaging functions. (See below section for setting up STOPit Admin)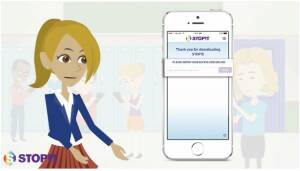 2. Host a STOPit launch assembly
Your school assembly is where you'll announce STOPit to your students and is the most important part of launching STOPit at your school. Your student assembly can be a schoolwide event, a classroom event or both.
Introduce STOPit as a tool to help address and prevent issues of bullying, cyberbullying and other inappropriate behaviors in your school.
Play STOPit Launch video.
Invite students to have their devices ready to download STOPit as you play the video.
Announce and display your school's access code.
Students should download and activate STOPit together along with the video.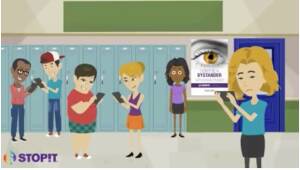 3. Continue to promote STOPit:
After the assembly, don't forget to continually encourage students to download and use STOPit.
Pass out Download Cards to students as they leave the assembly.
As the year goes on, regularly encourage students to download STOPit and display the STOPit access code in classrooms.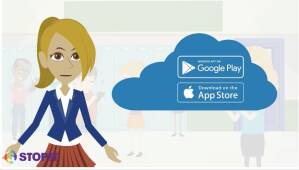 How to manage incidents quickly and simply
Now your students are ready to start reporting. STOPit Admin is your team's tool to manage incidents in a clean, easy to use system that doesn't burden you or your staff.
STOPit Admin is STOPit's comprehensive, streamlined, cloud-based incident management system. School administrators use it to track and manage incidents submitted via the STOPit mobile app. It's a proactive solution which helps schools save time. It is constantly at work identifying trends, sending alerts, and helping schools take control of incidents before they spiral out of control. STOPit's video library is full of quick "how to" videos that help administrators with everything in the system.
Customizing case management in just four simple steps
STOPit Admin is completely customizable for schools. As an administrator you can set custom alerts, incident tags or other trackable factors, create folders, and organize your data in whatever way is beneficial to your unique school. Schools can also assign or escalate incidents, as well as email parents, directly through STOPit Admin. STOPit Admin also helps ensure regulatory compliance.
Setting up the backend of the STOPit platform is a snap:
Follow online setup wizard
Create Access Codes
Configure Settings
Onboard Users
Other STOPit Admin users will automatically receive an email invitation to set a password and log in.
Everything about STOPit is designed to save you time and reduce your workload. STOPit streamlines your processes to improve the efficiency and effectiveness of investigations with STOPit's case management system.
To download a sample of the STOPit Launch Kit, Click Here
To learn more about how STOPit can benefit your school community, contact us via email at sales@stopitsolutions.com or by calling 855-999-0932.
Tag(s):