August 16, 2018
Four Reasons To Love The New STOPit Admin Experience for Incident Management
Part 2 of 2 in a series on the STOPit 2018 Platform Update
STOPit Solutions recently announced the launch of STOPit Admin, and users of the nation's most popular anonymous reporting & management platform are already weighing in with their approval.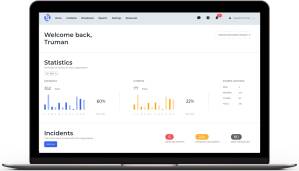 Formerly known as DOCUMENTit, STOPit Admin is an enhanced version of the comprehensive, streamlined, cloud-based incident management system enabling organization administrators to manage incidents submitted via the STOPit mobile app. Like the new version of the app, STOPit developers updated the user experience to capitalize on the most successful, most widely adopted features of the digital user experience today. STOPit Admin also deploys new, robust information sharing, analytics, and reporting features — part of the company's commitment to continuously improve the entire user experience.
Easy-To-Use and Secure Incident Management
"It's another tool for us to interact with our students in a manner which otherwise they probably would not. If we can help one child, that otherwise would not be helped– then why not do that. That's our role. That's what we're supposed to do," said Michael Coleman, a recently launched customer of the platform.
As with the reporting app, feedback from users and focus groups played an important role in the evolution of the platform.
"Our goal in refreshing the incident management platform was to make sure administrators continue to have the best, easiest to learn and easiest use incident management system available," says Teresa Reuter, STOPit's Director of Customer Success. "STOPit Admin delivers on that goal by empowering clients to be exceptionally effective, giving them more control over their ability to prioritize their time and attention."
Here are a few highlights of what's new with STOPit Admin:
New Home screen: The attractive, easy to read layout is updated to include a section for administrators to broadcast organization-specific content that's most relevant to their community. Whether the information being shared is targeted to the entire community or to a distinct group of people within the community, articles and announcements are shared based on knowledge of the prevailing challenges and opportunities at that organization.
Updated Incident Report Snapshot area: Integrated into the Home screen, the Snapshot section for new and active incident reports includes an automatic pop up window highlighting new messages, saving administrators even more time and allowing them more control to set priorities.
New Stats Snapshot feature: With more information, organized and available without running a full report, this section gives admins an at-a-glance look at the number of activations (users who download the app) and incident status information updates. Admins with monitoring and reporting responsibility use this option for a quick, accurate read on key information to share with other admins and supervisors at a moment's notice.
As always, detailed reporting is a key function of STOPit Admin, and robust reporting is available in the included Reports section.
Updated Incident screen: Designed to mirror the 'Inbox' experience perfected by email clients, this screen now autofills the incident description. Tabs and other options on this screen are organized to make it even easier to manage user-facing as well as admin-facing tasks and messages.
Making the Switch to STOPit Admin
Users who loved DOCUMENTit's functionality will delight to find there's absolutely no learning curve for STOPit Admin. If you were adding incidents, and escalating or resolving incidents in DOCUMENTit, you know how to do it in STOPit Admin. As always, improvements to the STOPit platform make the entire experience easier, while delivering the same, superior results customers expect.
And for organizations who are using STOPit's popular IMS Service which provides monitoring and and escalation services 24/7, the new interface makes it even easier for the first-line auditors to review each incident, determine the nature and priority of the report and take the right next steps. Whether that next step is to escalate actionable reports to an internal or external administrator — or not — those first-responders are getting anonymous incident reports in the most streamlined, integrated format available.
Find out more about how STOPit solutions can help your school, your workplace and your community reduce risk, discourage bad behavior and provide evidence to help catch those who act abusively.
Click below to contact us and find out more.
Tag(s):