August 9, 2018
A New Design for A Powerful Mobile Reporting App That Successfully Fights Harassment, Intimidation, Bullying and Other Harmful Behaviors
Part 1 of 2 in a series on the STOPit 2018 Platform Update
Over 3,000 schools, a growing number of municipalities and more than 100 businesses are using the STOPit app to empower individuals to stand up to harassment, bullying and other forms of intimidation or harmful behavior. For hundreds of thousands of people across the United States and internationally, STOPit is providing people with the power to safely, anonymously report abuse and to seek help — putting the solution, literally, in the palm of their hands.
And this year, users got a major upgrade.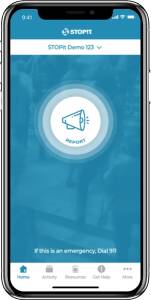 The development team at STOPit solicited feedback from a diverse group of users, including youth, school administrators, and educators, employees working in healthcare, hospitality and other businesses, as well as public safety and law enforcement users, to improve to the look and 'feel' of the most popular mobile reporting tool available. Focus groups helped with UX (user experience) choices, and feedback from hundreds of human resource and compliance administrators provided clear examples about what they liked most about the app, giving the development team a good place to start building the next version.
"The app is a tremendous resource and we've seen a dramatic improvement in the way the kids in our school think about bullying and helping each other. I was happy to share feedback that is helping to make the app even better." Said Larry, recent grad of Wall High School in NJ — a STOPit customer.
No other solution in the marketplace is so focused on their users, and ensuring a simple, fast and powerful experience.
Choose STOPit and Change for the Better
All updates to the app and to the STOPit Admin incident management software are focused on continually improving the user experience. In fact, with this latest upgrade, the app has evolved from an effective, powerful reporting tool into one that also provides information and support to help users feel safer, better connected and better informed, 24/7.
New features enable a more robust and customizable library of information resources including articles and crisis/help lines, social and emotional learning articles, and research articles focused on specific interests including professional topics and challenges. Updates to the new Thank You screen provide clear, positive feedback when people file a report.
"This upgraded mobile app presents options in a clean, intuitive format that leverages the best UX of other popular and successful digital experiences," said Teresa Reuter, STOPit's Director of Customer Success. "And the easier it is to use, the more people will use it to improve safety at their school or organization and challenge harassment of themselves and their coworkers, neighbors or classmates."
In addition to the updated UX features, users will also get:
Simplified activation process: The upgraded app provides options for making it even easier to login and report while still delivering the best in security and anonymity to users. Users put in a one-time, district, company or community access code and simply choose their location from a drop-down menu, or, they can skip entering an access code entirely and scan a QR code from any of the launch materials STOPit prepares for each client.
Broadcast: The Notification function is updated as well, offering organizations the option to load in specific content, such as relevant educational information, in addition to broadcasting important announcements and opportunities. Content choices are chosen by each organization to best serve their own, particular culture and communications needs.
Get Help: This button has been moved to a more prominent location in the bottom menu. Organizations upload their own resources, such as national and local helplines.
Activity Screen: It's been transformed with an even more powerful, easy to use design. The new 'inbox' feel makes it easier to check reports and log information. Users now update information for a specific incident, adding more evidence, or clarifying details in the original report. Anonymous communication about the incident and follow up is as easy and secure as ever.
What's in a Name? For STOPit Admin — Everything.
In addition to the mobile app update, STOPit also launched a transformation of DOCUMENTit, the company's comprehensive, streamlined, cloud-based incident management system, renamed STOPit Admin.
STOPit Admin deploys an even better, more intuitive user interface, and has even more robust information features and streamlined reporting and analytics dashboards to make the admin role even easier and more time effective. "We can't be more excited about this," Reuter said, "and clients are delighted by the improvements — especially by how easy it is to leverage their current knowledge of how the tool functions in an even better user experience."
Find out more about how STOPit solutions can help your organization reduce risk, discourage bad behavior and provide evidence to help catch those who act abusively. Click below to contact us and find out more.
Tag(s):